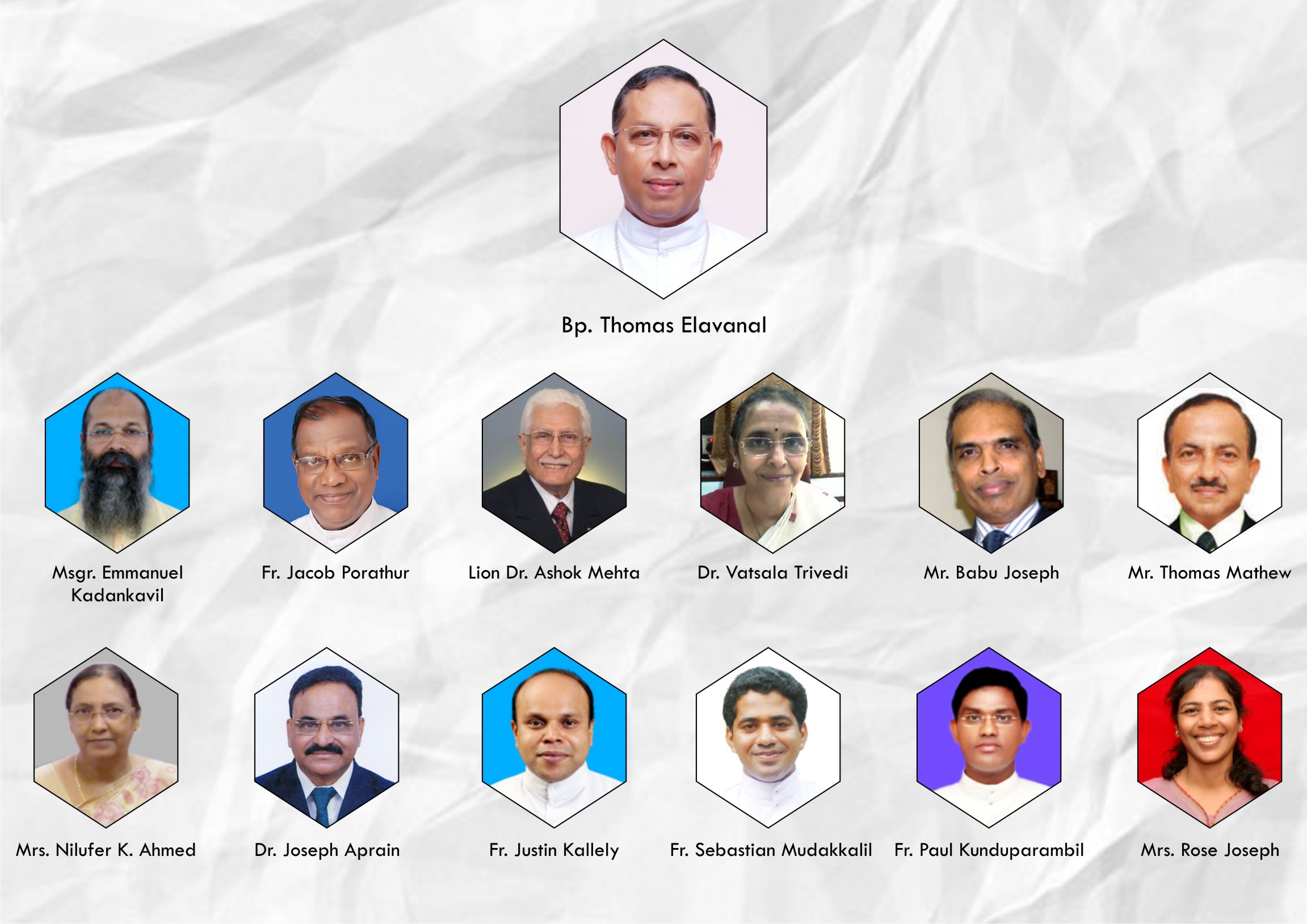 ---



Bishop Thomas Elavanal (Chairperson):
Bishop Thomas Elavanal was born on 28th March 1950 at Mutholy, in Kerala. He holds a Licentiate in Liturgy from Pontifical Oriental Institute and a Doctorate in Theology from the Pontifical University of St. Thomas Aquinas, Rome. He had his post-doctoral courses in the Catholic University of America, Washington. He served as the Superior General MCBS congregation. On 8th February 1997, he was consecrated Bishop of Kalyan Diocese. He is the Chairman of Western Regional Commission for Health and chairman of Syro-Malabar Synodal Commission for Liturgy.



Msgr. Emmanuel Kadankavil (Board Member):



Mgr. Jacob Porathur (Board Member):
Mgr. Jacob Porathur is one of the pioneer architects of the Kalyan Diocese and founding Trustee of Karunya Trust. He is the Vicar General of the Diocese of Kalyan. He served as the chief treasurer of the trust for 10 years. Mgr. Jacob, a visionary, initiated number of socio-charitable activities through various Karunya Nodal centres in Mumbai.



Dr. Ashok Mehta (Board Member):
On completion of his education in the Commerce Faculty, in 1954, he started his professional career as Commercial Executive with Mukund Ltd. In course of time, he rose to the position of General Manager in that organization. He had a distinguished career with Mukand Ltd., spanning over 30 years.
Joined Lions Club in 1963, became District Governor in 1979. During the term of District Governor, Lion Ashok Mehta helped the flood-affected people of Morvi, Gujarat and constructed a housing colony at a cost of Rs. 34 Lakhs.
He was elected International Director for a 2 year term 1986-88, as a representative of Africa and South East Asia, representing 57 countries on the Board of Directors of Lions Clubs International.
In 1986, he was declared "Man of the Year" by jaycees of Mumbai. Lion Ashok Mehta, his wife Kokila Mehta & daughter ShitalKapoor are Progressive Melvin Jones Fellows.
From this part of the world of Lionism, Lion Ashok Mehta has the distinction of having been conferred the coveted President's Medallion by Lions International Presidents consecutively for the last 30 years; and having participated in 32 Lions International Conventions; 21 US-Canada Forums, 31 Africa Forums and 10 Lions Conferences in Far East countries. He has enrolled 260 members to the Association and extended 27 clubs.
He has presented paperson Sight Conservation and other vital topics at Lions International Forums and Conventions, he was appointed a member of the Campaign Sight First International Committee – for 5 years (1990-1995), with the task of collecting US $ 150 Million for the Sight First Project.
He was appointed Member of the Campaign Sight First II International Committee for 2 years (2006-2008), with the task of collecting US $ 2, 00,000.
He has been responsible for carrying out many Eye Camps in the rural areas of India and also Africa. He has to his credit 30 Eye Camps all over India and Africa.
Lion Ashok Mehta was appointed Chairman of the District Governors Orientation at the 75th International Convention in Hongkong and from 1990 onwards, he has been appointed 12 times as the Group Leader.
At the 88th International Convention of Lions Clubs International, held at Hong Kong, on 1st July, 2005, he took over as the President of Lions Clubs International, the largest service Clubs Organization. At present he is the Chairman of Lions Clubs International Foundation.
Nominated by the Governor of Maharashtra to the Senate of Mumbai University for a 5 year term from the year 2000.
He was appointed Sheriff of Mumbai by the Government of Maharashtra, on 4th January 2001, for a one year term.
Government of Maharashtra has appointed him recently as a Member of the Senate of All India SNDT University for the period 2011-2016.
He is the Chairman of Hamara Foundation, looking after 2000 children with 4 homes in the city of Mumbai.
Ashokbhai has the vision – be it a Sight Conversation and Work for the Blind, Awareness Programmes on HIV/ Aids of Hepatitis, his contribution has been recognized and the Government of Maharashtra has appointed him on many Committees for Awareness and Prevention.
In November 1992, during his 60th Birthday Celebration, a purse of Rs 11, 11,111/- was presented to him and he distributed the same to many deserving welfare institutions.
In February 1997, under the Chairmanship of Chief Justice Dharmadhikari, a Committee of eminent citizens of Mumbai presented a purse of Rs. 10 Millions for his outstanding, distinguished and dedicated social services over the past 50 years. Mr. Mehta, in turn, donated this money for the construction of a General Hospital in Gujarat.
Lion Ashok Mehta has been actively associated with several Medical, Educational, Welfare, Social and Cultural institutions, in various capacities, among them being:
Chairman Emeritus, Lion TarachandBapa Hospital &Reserach Centre.A multi-purpose 120 bed hospital-cum-diagnostic center, near Dharavi slums, Sion West, Mumbai.
Founder-Chairman: Lion Kartar Singh Hospital and Research Centre. A 40 med hospital with ultra modern facilities, extending medical care to the needy and deserving in Andheri, Mumbai.
Founder Chairman of Dr. Bhanubennanavati Hospital ( Rural General Hospital) at Chorwad, Gujarat.
Founder-Secretary: Mahavir Heart Research Foundation, Mumbai. This Foundation has carried out 10,000 heart surgeries over the past 25 years, for the needy and deserving patients.
Mr. Ashok Mehta is actively associated, as Trustee on the Board of Mahatma Gandhi Leprosy Hospital at Wardha, in the cure and rehabilitation of leprosy patients.
Managing Trustee: JeevanPrakash – a charitable Trust which looks after mercy mission projects by helping the needy and deserving patients.
Chairman: JnanVikasMandal which runs an English medium school, Junior College and 3 Degree Colleges( Arts, Science and Commerce) in the rural area of the Thane District.
Chairman: Sevamandal Education society, Matunga, who are managing eight institution/ collegesaffliated to SNDT University Society provides education to about 7,000 girl students.
Vice Chairman: ArunaManharlal Shah Institute of Management, Mumbai Post Graduation in Master of Management Science Trustee: Versova Welfare Education Society at Versova-Andheri, which runs a High School, a Junior College and a Degree College in Commerce.
Vice Chairman of Infant Jesus Education Trust, Pune
Founder-President: Thane Metropolitan Gymkhana, encouraging younger generation to participate more and more in sports activities.
Board Member of Karunya Trust from 2012 and championing its services through his graceful presence and guidance.



Dr. Vatsala Trivedi (Board Member): President National Deceased Donor Transplantation Network
Dr. VatsalaTrivedi, the president of NdTN is a retired professor & the HOD of the Department of Urology & Transplant surgery, had carried the FIRST cadaveric renal Transplant in the state of Maharashtra thus starting the era of Deceased Donor Transplantation on 27th of MARCH 1997, at LTMG Hospital, SION. She carried out 22 more such transplants in the same Municipal Medical College & has proved that a general hospital has the entire infrastructure to carry out cadaveric transplantations. She also has the credit of establishing ZTCC (mum) where she worked for 11 years in the capacity of general secretary. She developed a transparent organ allocation system, which is followed by other states like Tamil Nadu, & Karnataka.



Mr. C. Babu Joseph (Board Member):
C Babu Joseph is a Post Graduate in Agriculture with specialisation in Horticulture.He is also a Certified Associate of the Indian Institute of Bankers.He started his career as an Assistant Professor in the Kerala Agricultural University and in 1979 joined State Bank of Travancore as a Probationary Officer.He moved to UTI Bank(which subsequently became Axis Bank) in 1995.He held several senior positions in the Bank and was the President of the Advances department of the Bank till 2010.He then moved to head the Axis Bank Foundation as its Executive Trustee and CEO,a position he held till his retirement in February 2015.He is now on the Board of six organisations in the social sector and in an Executive Committee member of the Bharat Rural Livelihood Foundation of the Ministry of Rural Development. Under his leadership Axis Bank Foundation had won "The Forbes India Philanthropy Awards 2014". Since 2012 he is an active board member of Karunya Trust and championing its services through his experienced and graceful interventions.



Mr. Thomas Mathew (Board Member):



Mrs. Nilufer K. Ahmed(Board Member):
Lecturer at Tripude College of social work. 1985 to 1987 and 1981 to 1983. Delivered special lectures on social welfare themes, personality development & issue based things (social issues, accounts & administrative issues etc.) by invitation at TISS, Universities, Colleges etc. She is holding 28 years of experience as NSS volunteer, NSS P.O., Uni. Co-ordinator and S.L.O.
She served as an Assistant Dean & Dean of Students Welfare at SNDT University from 1989 to 2002.
Mrs. Nilufer K. Ahmed has been actively associated with several Educational, Welfare, Social and Cultural institutions, in various capacities, among them being:
Member of Consultative Group on Planning Commission: Govt. of India from Ministry of Youth Affairs & Sports GOL.
Governor's nominee: on State Red Cross Society Committee, Maharashtra.
Recipient of best NSS Co-ordinator: State award from the Dept. of Higher & Technical Education in the year 1996.
Swami Vivekanand Youth Development Award 2001-02: on UNO Youth for Cultural Heritage by International Association of Education for World Peace.



Dr. P. J. Aprain (Board Member):
Dr. P. J. Aprain, a well known social scientist and has received the certificate of Honour for promoting peace and harmony awarded by Dr.AlbertKuhlmann, The President, World Conference in safety science, Cologne, Germany. Dr.Aprain is Executive Vice President of INSHARP (International Society for Harmony and Peace ), nominee of the Honourable Governor of Maharashtra on the Maharashtra State Red Cross, Zone Chairman of International Lions Club, Managing Director of Omana Estate (Pvt).
Mr. Aprain is also Board Member of MTNL telephone Advisory Committee, Karnataka Haridas Scientific Research Centre, Banglore, Trustee of Karunya Trust and Diocesan Social Service Society of Diocese of Kalyan.
Have successfully served the Central Government for 15 years and left the job in 1990 in pursuit of higher education as well as for fully involving in effective social service. He has done his Ph.D in "Economics, Education & Security-An Integrated Approach". The Ph.D work is dedicated to INSHARP as an intellectual foundation. A book on the subject is being published shortly.



Fr. Justin Kallely (Secretary & Board Member):



Fr. Sebastian Mudakkalil (Finance Incharge & Board Member):



Fr. Paul Kunduparambil (Executive Director & Board Member):



Mrs. Rose Joseph (Board Member):